Work • Advanced Onion Router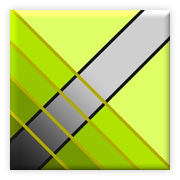 AdvOR, formerly known as
AdvTOR
or
Advanced Tor
, is a client for
OR network
and is intended to be an improved alternative for Tor + Vidalia + Privoxy/Polipo bundle for Windows users. Before trying Advanced Onion Router, try the original
Tor client
and read the available
documentation
to get familiar with Onion Routing and OR network. You may find Vidalia easier to use. Some of the improvements of Advanced Onion Router include support for HTTP(S) proxy on same SOCKS4/SOCKS5 port, a user interface which makes all Tor available options more accessible, local banlist for forbidden addresses and the ability to "force" a program and its extensions and plugins to use the Tor proxy regardless of its configured proxy settings. More features will be added in next versions.
Screenshots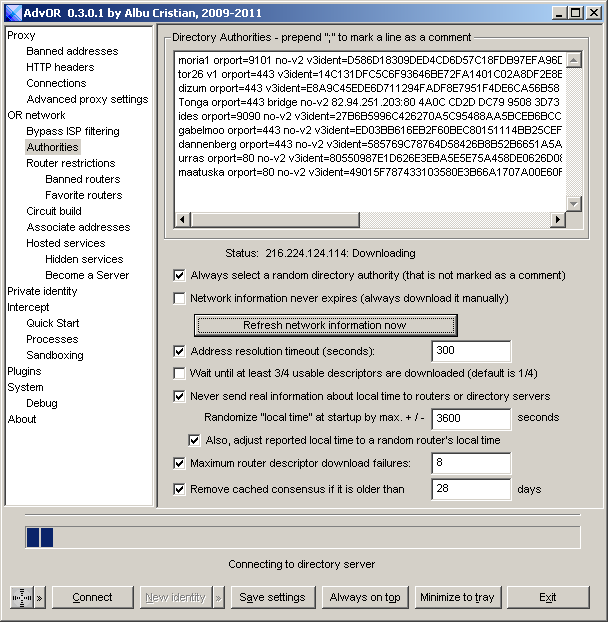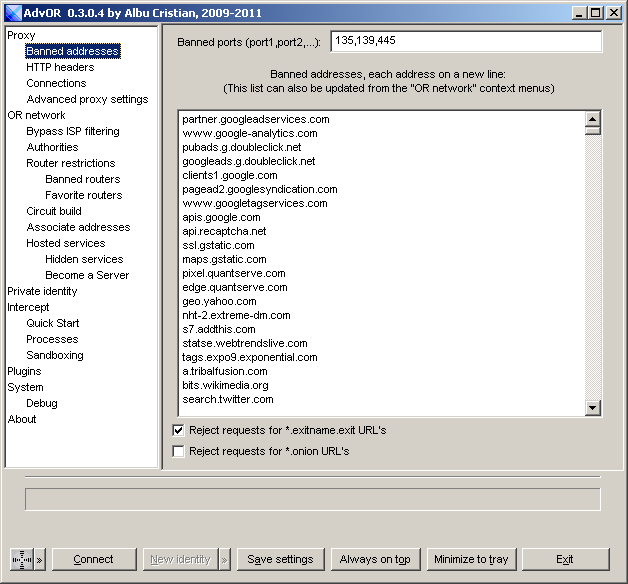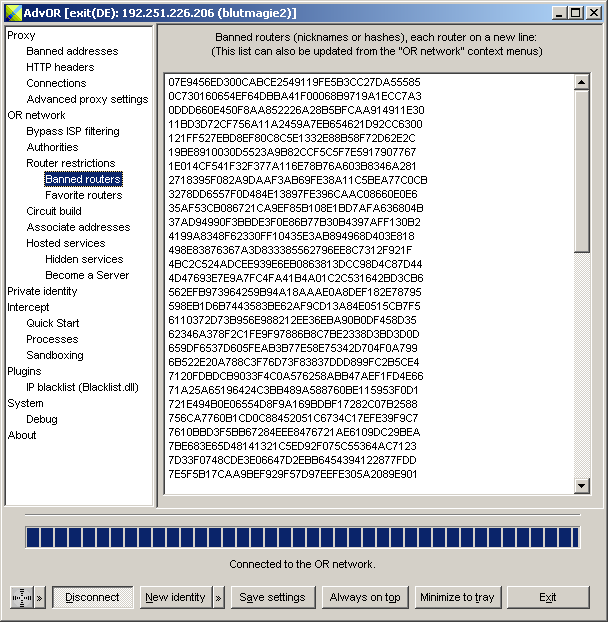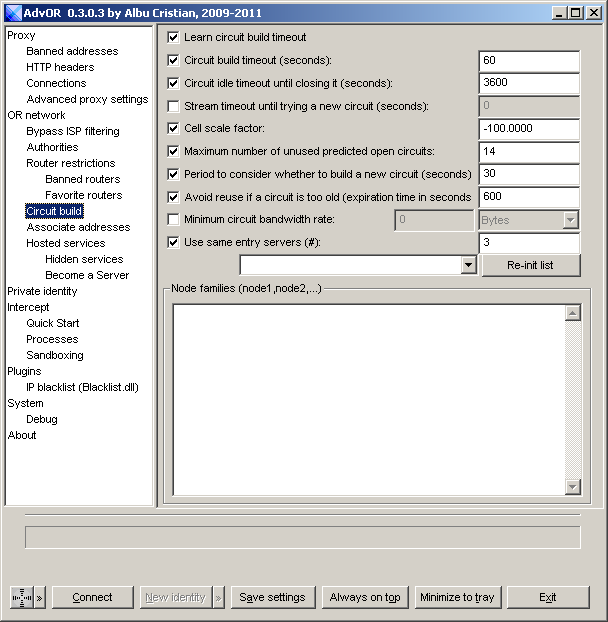 Copyright
© 2009-2016 Albu Cristian
License
Advanced Onion Router consists of Tor 0.2.1.30, graphical interface and extensions.
Tor is distributed under this license:
© 2001-2004, Roger Dingledine
© 2004-2006, Roger Dingledine, Nick Mathewson
© 2007-2014, The Tor Project, Inc.
Redistribution and use in source and binary forms, with or without modification, are permitted provided that the following conditions are met:
Redistributions of source code must retain the above copyright notice, this list of conditions and the following disclaimer.
Redistributions in binary form must reproduce the above copyright notice, this list of conditions and the following disclaimer in the documentation and other materials provided with the distribution.
Neither the names of the copyright owners nor the names of its contributors may be used to endorse or promote products derived from this software without specific prior written permission.
This product includes software developed by the OpenSSL Project for use in the OpenSSL Toolkit, zlib and libevent.
Graphical interface, extensions added to Tor client and AdvOR.dll are distributed under
Creative Commons Attribution NonCommercial ShareAlike License
.
Pages
Files
Comments
thanks developers !
Posted by
arnauld
on
2016-06-13 18:03
•
#6920
Please make error dialog window (at least optionally) non-modal and/or non-stopping, because it seriously breaks unattended functionality by just waiting for you to click OK and dismiss it.
Thank you.
Posted by
Guest
on
2016-05-16 12:31
•
#6653
For now if you need obfuscation change your HTTP directory requests and TSL(SSL) connectinos in AdvOR to an external proxy that supports it via the Bypass ISP Filtering tab. ie: 127.0.0.1:1080 SOCKS5 - and 127.0.0.1:1080 SOCKS5. You could use TOR Browser for this on port 9150 although TOR over TOR isn't recommended.
If you need only to restrict your entry connections to port 80 & 443 for firewall bypass then place,
*:80,*:443
reject *:*
in the Firewall restrictions box in the Connections tab.
Posted by
Pong
on
2015-07-20 20:53
•
#480
Please continue updating this software, thanks!
Posted by
GunGunGun
on
2015-07-08 11:53
•
#330
Nope, AdvOR is not abandoned, developer is just having other things to do right now.
AdvOR works great the way it is as I use it every day I'm on a PC. It doesn't need a bunch more development except in the area of obfuscation but TOR is not solidified in its v4.x development of newer circumvention yet.
Posted by
Pong
on
2015-01-27 18:35
•
#247
Have you guys stopped developing advtor?
Posted by
Bain
on
2014-12-30 12:15
•
#234