Work
⋅

IRC2NMDC

IRC2NMDC converts one or more IRC channels from different IRC networks to local virtual hubs that can be entered by NMDC clients and bots. Each IRC channel is seen as a separate hub so a different port must be set for every added channel.

All supported IRC features are added as user commands to user menus and hub menus. Also,

NickChange

is supported, if the client does not support

NickChange

, it is emulated.

In version

1.00

many IRC specific features are not supported and there is no flood and spam detection. File sharing between IRC clients and NMDC clients is not yet implemented.
Screenshots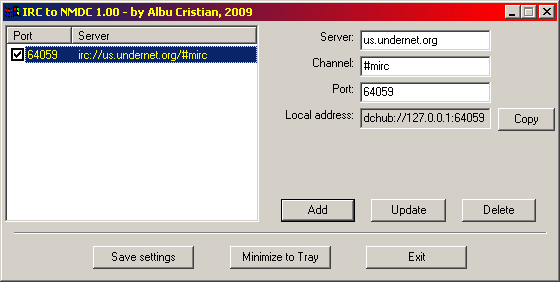 Copyright
© 2008-2023 Albu Cristian
License
Creative Commons Attribution NonCommercial ShareAlike 3.0
Files
File
Version
Date
Downloads
Comments
Get
IRC2NMDC 1.00
1.00
2014-12-20 18:43
499
1
Total
499
1
1
There are no comments for this category, you can
leave one here
.